When buying protein powders, you may be wondering whether you should opt for whey protein isolate or whey protein concentrate. While both are good for you, taking a deep dive into the whey protein isolate vs concentrate issue will help you take a good decision for yourself.
Today, we are going to talk about the difference between the two. After reading this article, you can make an informed choice.
NATURALTEIN has been raising the bar in creating whey protein supplements. Let us explain how our top-selling protein powders are different from each other.
What is whey protein concentrate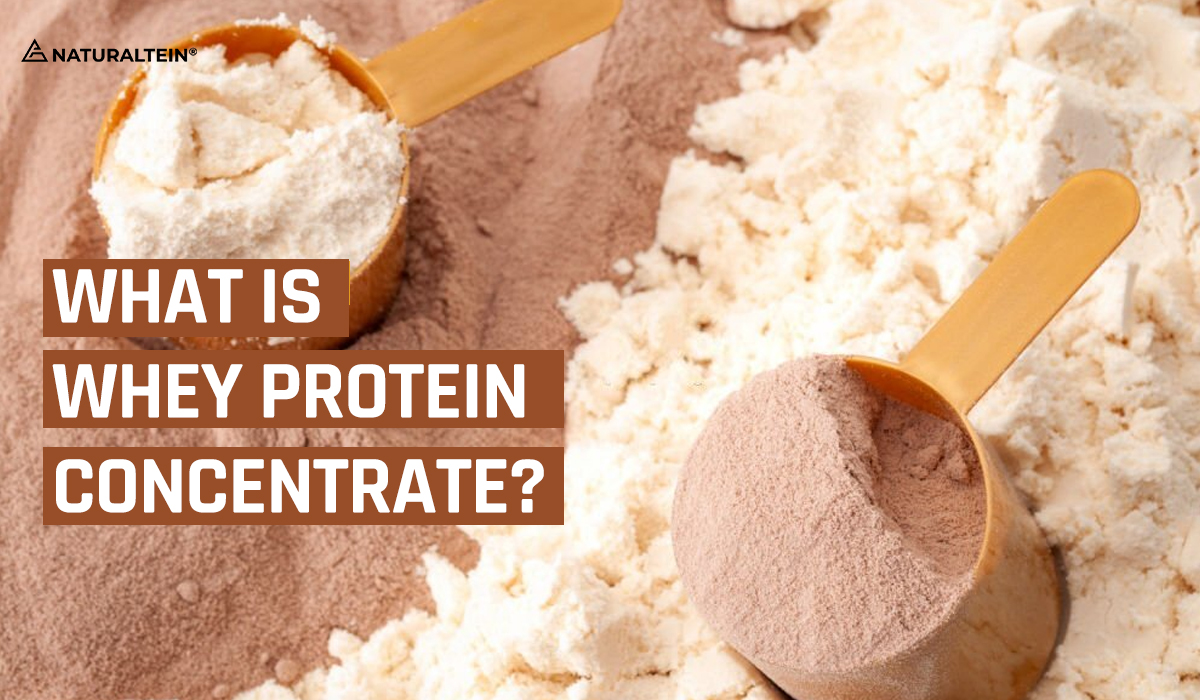 If you love milk, you would love to know whey protein concentrate is a milk-based protein supplement high in amino acids and branched chain amino acids. It's natural why it attracts bodybuilders and athletes for muscle growth and improved exercise performance. Whey protein concentrate is also a good source of calcium, which is important for your bone health.
Additionally, whey protein concentrate may help reduce body fat and increase lean body mass. We will discuss the benefits of consuming whey protein in detail later.
What is whey protein isolate?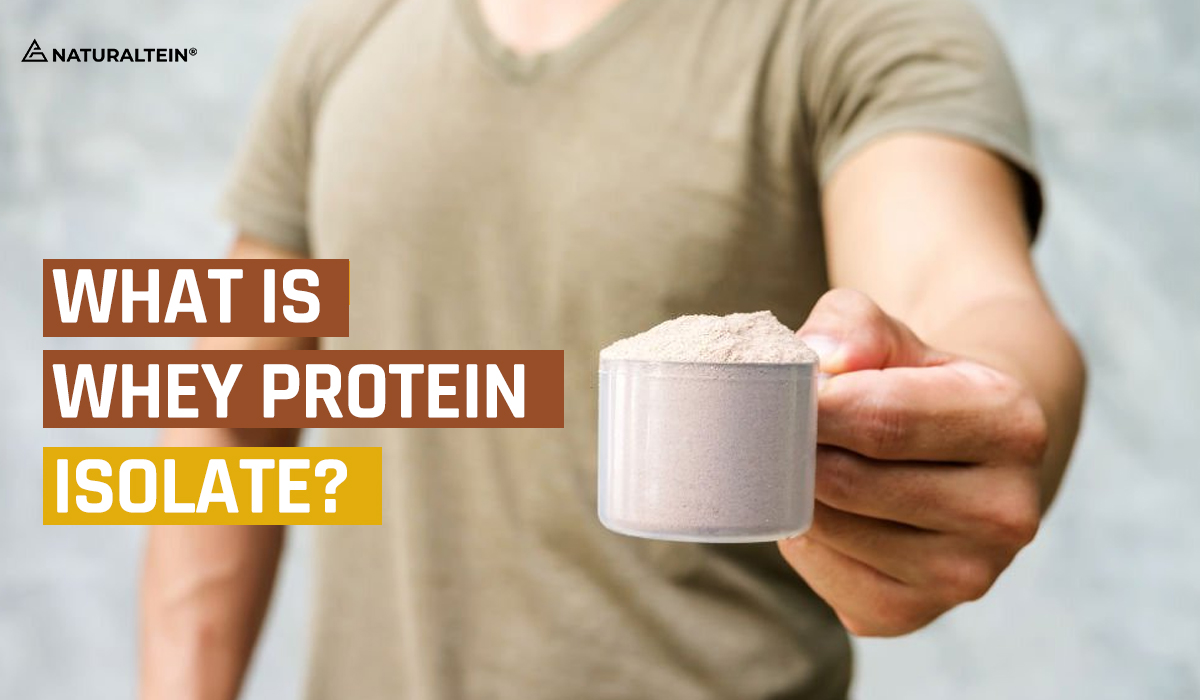 Whey protein isolate is a protein supplement derived from whey, the liquid part of milk that separates during cheese production. It's usually sold in powder form, and you can add it to shakes, smoothies, and other drinks.
Whey protein isolate is a protein concentration of whey protein with very little fat and lactose content. It is also the very reason why weightlifters, athletes, and bodybuilders love whey isolate.
While whey protein isolate contains all the essential amino acids your body needs, it's a complete protein source. This makes it a more efficient source of protein than other types of protein supplements, such as casein or soy.
Difference between whey isolate and whey concentrate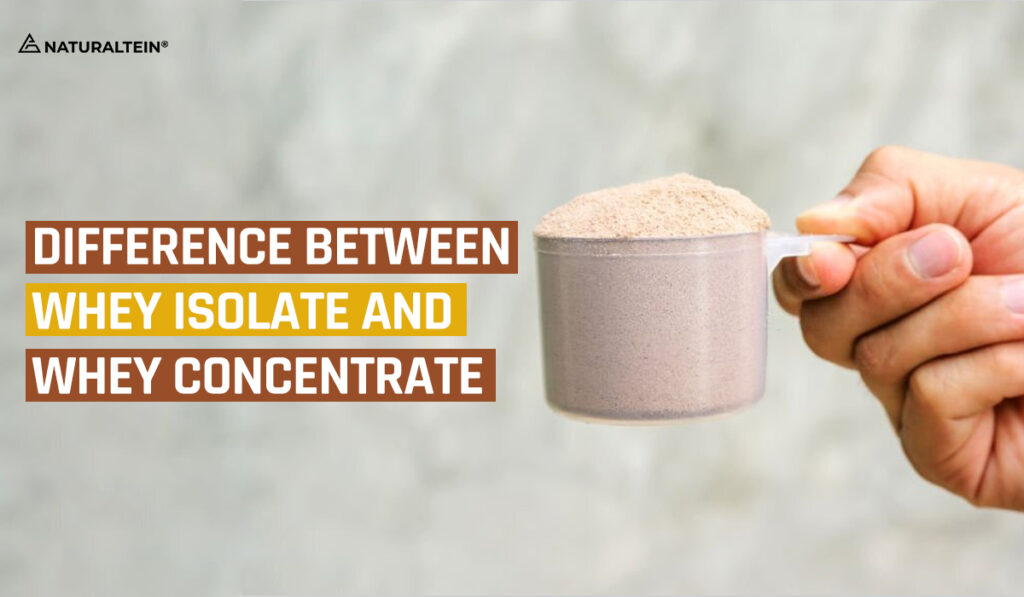 A simple search on the internet about whey protein isolate vs concentrate can confuse you. Since they have similar health benefits, it's hard to strike a line between the two. The question is, what's exactly the difference between the two?
Keep in your mind that whey isolate is a purer form of whey protein. It undergoes a filtration process where it doesn't contain much of the fat, lactose, and other impurities. So, whey isolate is a fine choice for lactose intolerants. Of course, you will notice whey isolate will make a hole in your pocket compared to whey concentrate.
Now let us shed some light on whey concentrate, it is a less processed form of whey protein that may contain some fat and lactose. However, it is generally less expensive than whey isolate. Whey concentrate is a good choice for those looking for a more economical option.
So, which one is right for you? If you have trouble digesting fat or lactose, whey isolate may be better. If you're looking for a more economical option, whey concentrate may be better. Ultimately, it's up to you to decide which one is right if you are confused regarding whey protein isolate vs concentrate.
Whey protein isolate vs concentrate benefits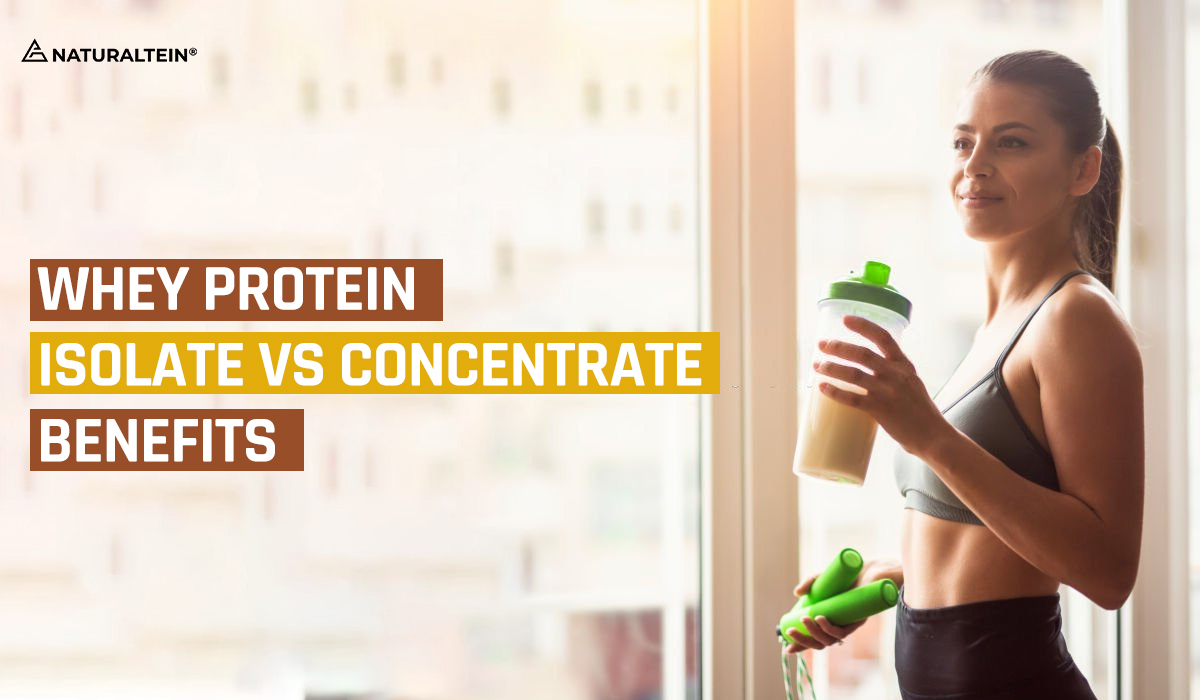 No matter how much you wrack your brain deciding on whey protein isolate vs concentrate, you would get numerous health benefits from both. You just have to get natural whey protein powders from NATURALTEIN.
1. Concentrate and whey protein isolate improves muscle recovery
Whey protein provides you with branched-chain amino acids (BCAAs) for muscle growth and recovery. BCAAs are metabolized directly by muscles. Studies show that they can help reduce exercise-induced muscle damage.
2. Whey isolate protein powder boosts immunity
Whey protein increases immunoglobulins, which are antibodies that help support the immune system. This study shows when your body has increased antibody levels, your body can quickly respond to disease agents.
3. Pure isolate protein aiding weight loss
Whey protein can help you lose weight by increasing satiety (fullness) and reducing appetite. One study showed that whey protein isolate was more effective than other types of protein at promoting weight loss and preserving lean body mass.
4. Whey protein concentrate powder reduces blood pressure
Whey protein isolate may help reduce blood pressure by improving endothelial function. This study showed that whey protein could lower blood pressure in adults with overweight and obesity.
5. Whey concentrate protein improves blood sugar control
Whey protein can help improve blood sugar control by increasing insulin levels. One study showed that whey protein effectively moderates blood sugar in people with type 2 diabetes.
6. Reduce inflammation with whey concentrated protein powder
Whey protein may reduce blood levels of C-reactive protein, a key marker of inflammation, leading to a reduction of inflammation. It has anti-inflammatory compounds that can help reduce inflammation throughout the body. One study showed that whey protein isolate was able to reduce inflammation markers in patients with Ischemic Stroke.
7. Support bone health with whey isolate protein powder
This study showed that whey protein was able to improve bone mineral density.
8. Reduce oxidative stress with whey protein
Whey protein contains cysteine that helps maintain adequate glutathione production in your body. Increased levels of glutathione may reduce oxidative stress.
9. Lower cholesterol levels with whey concentrate and whey protein isolate
Whey protein isolate can help improve heart health by reducing LDL cholesterol and triglyceride levels. When your body lowers cholesterol and triglyceride levels, you can avoid cardiovascular diseases.
10. Enhancing exercise performance with whey protein powder
Whey protein isolate can help enhance exercise performance by increasing muscle mass and strength. Thus, you can take whey protein isolate to improve exercise performance or muscle recovery.
Why should you buy natural whey concentrate and whey isolate?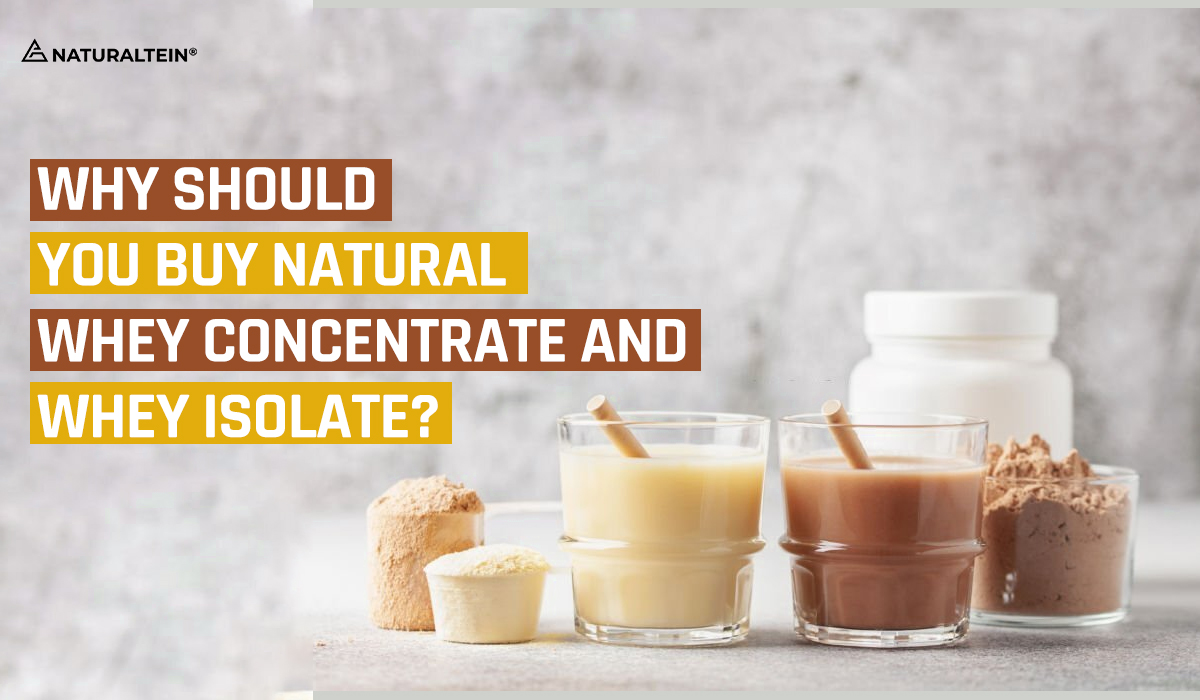 There are many reasons to consider switching to a natural whey protein powder. First and foremost, whey protein is an excellent source of protein, where you get essential amino acids to build muscle and repair tissue. Natural whey protein supplements are low in calories and fat, making them a great option for losing weight or maintaining a healthy weight.
Natural whey protein powder is also free of artificial sweeteners, flavors, and colors. For example, additives can cause gastrointestinal distress, headaches, and other health problems. However, natural whey protein powder contains only the highest-quality ingredients, providing a pure, healthy product.
Buy NATURALTEIN whey protein powder and make a sustainable and environmentally friendly choice. Our whey protein is derived from milk of grass-fed, hormone-free cows. Our products are free of artificial flavours or sweeteners. So, there's no need to worry about their impact on your health or the environment.
Whether you're looking for a healthy protein powder to support your fitness goals or make a more sustainable choice, NATURALTEIN whey protein powder is a great option. We make sure when you choose a natural whey protein powder, you can get a safe and healthy product that will support your health and fitness goals.
What makes NATURALTEIN whey protein powder different?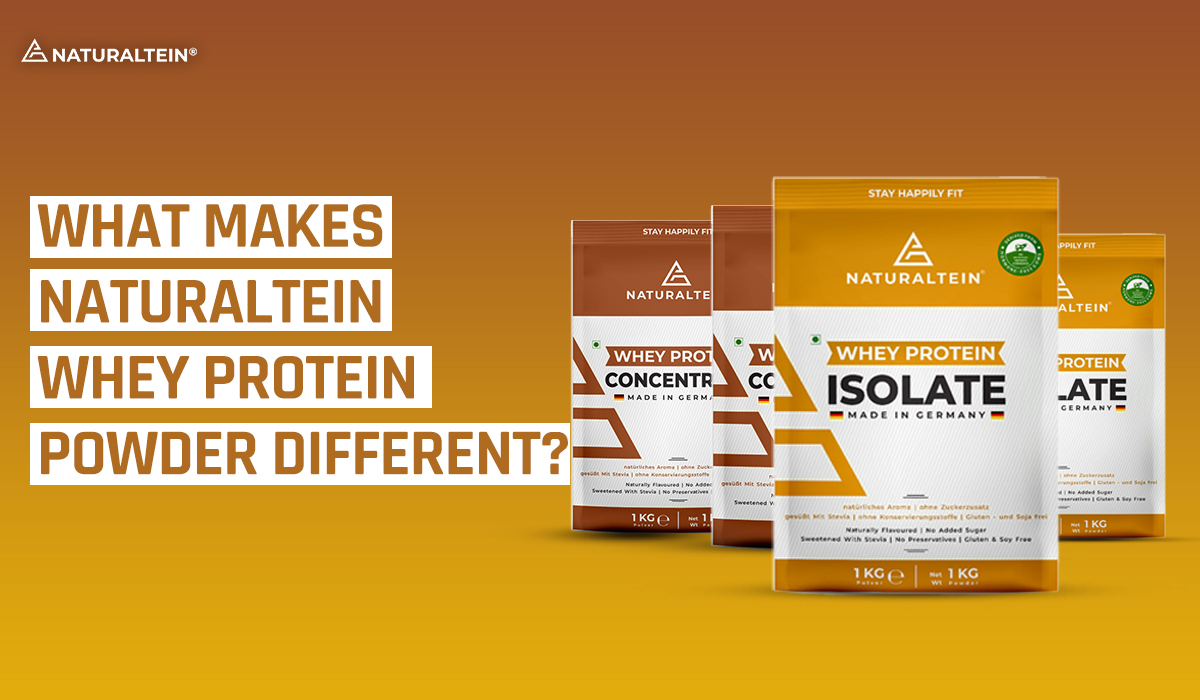 You don't have to read every whey protein isolate vs concentrate article to find which is the best, all NATURALTEIN whey protein powders consist of all-natural ingredients designed to promote optimal health and fitness. Our protein sources come from grass-fed cows free of hormones and antibiotics. This ensures that you get high quality proteins full of essential nutrients.
Additionally, NATURALTEIN uses a unique manufacturing process that preserves the integrity of the protein. This allows us to offer you a complete line of whey protein powders perfect for pre-workout, post-workout, or anytime you need a protein boost.
Our whey protein powders are also low in lactose, making them easy to digest. Last but not least, you can choose from various delicious flavors, including chocolate, vanilla, and strawberry.
At NATURALTEIN, whey protein isolate vs concentrate debate takes rest because all our supplements are natural.
Conclusion
So, let us make it clear as day. The difference between whey isolate protein vs concentrate is just that whey isolate gives you higher protein content with fewer carbs, lactose, and fat. As we discussed, we will get similar health benefits from both.
Now, all you have to do is go for natural whey protein powders. We have made it clear why NATURALTEIN has all-natural and high quality proteins. We wish you to make an informed choice for your health.
FAQs